BBC School News Report 2011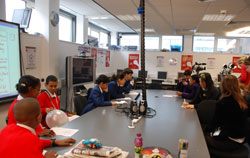 BBC School News Report, in coordination with various schools and CLCs in the UK, gives 11-14 year old students the chance to report on the news for a real audience. On 24th March 2011 a group of schools will take part in recording the news, making video, audio and text-based reports, which will be then hosted here on the CLC website.
During News Day 2011, students and their work featured on News 24, Breakfast News, the One O'clock and Six O'clock News, Newsround, Radio Five Live, Radio 4, 40 local radio stations, 12 regional TV stations, BBC Wales, Scotland and Northern Ireland, and many local and national BBC websites.